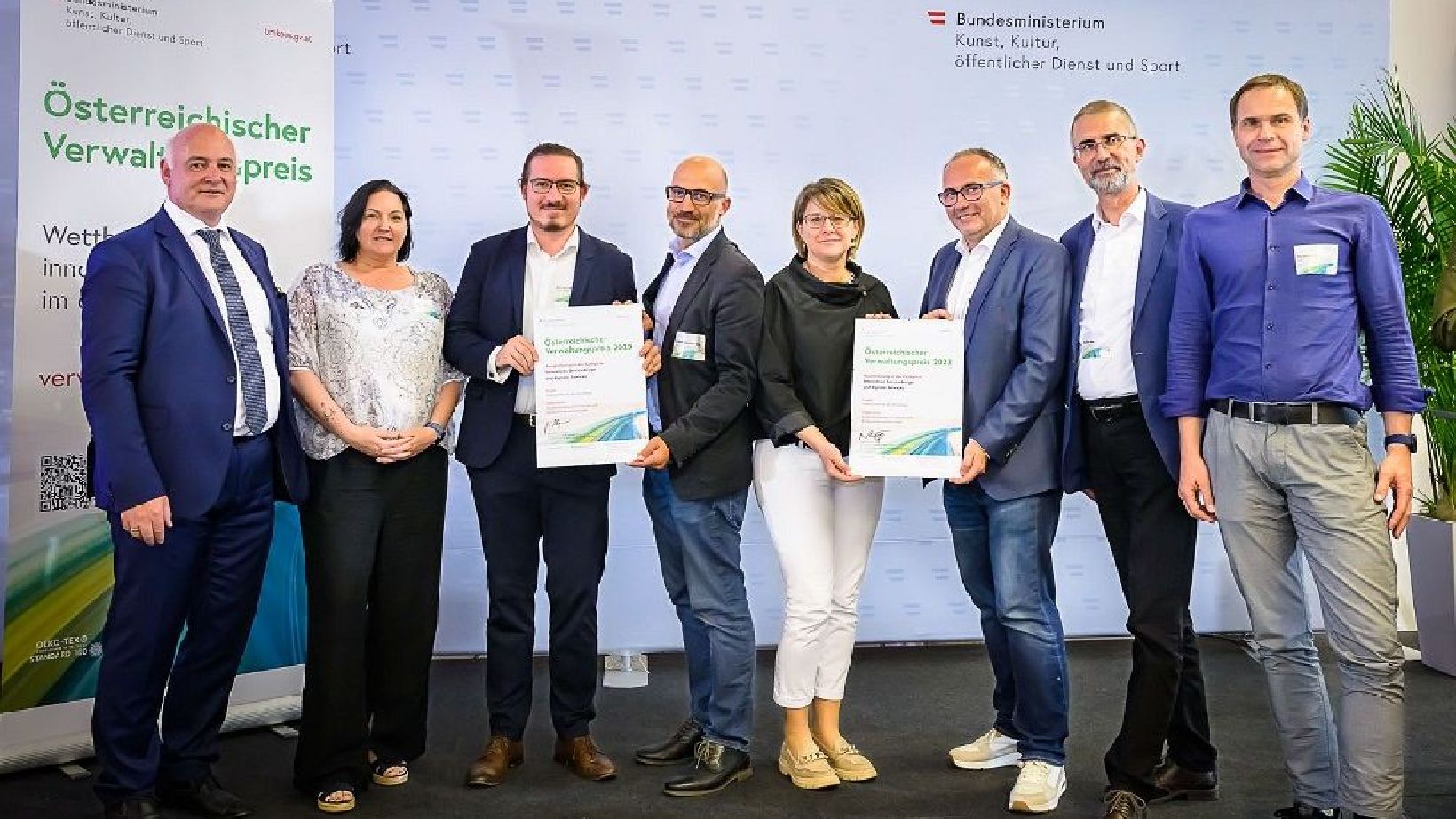 Public Administration Award: Excellent Solution
13. June 2023
Video-based solution for handling official business for the Ministry of Finance wins prize at the 2023 Administrative Award.
The Austrian Public Administration Award honors innovation and cooperation projects of the federal government, the federal states and the municipalities. The administration competition aims to encourage, promote and publicly present innovations in administration. 142 projects in seven categories were submitted this year for the 2023 Public Administration Award. The teams with the most innovative projects were honored with trophies and prizes at the award ceremony on May 31.
Successful innovation project
One of these projects, a new video-based solution from the BRZ for handling official business, with which even complex issues can be handled completely digitally, also received an award. Driven by pandemics and lockdowns, the number of virtual meetings has increased in recent years. Inspired by this, the BRZ took up an idea for virtual authority contacts in mid-2021. As part of an innovation project, the potential of office visits with binding results via video chat was demonstrated and tested in practice together with several customers.
Innovative service design
Modern design thinking methods were used in the solution concept phase. "After numerous very intensive interviews with potential users, we quickly visualized a prototype which we were then able to improve with the involvement of these users," explains Gerhard Embacher-Köhle, Innovation Manager at the BRZ. To enable cross-authority use, the system is already designed in such a way that additional processes from all areas of the administration can be implemented.
Potential recognized quickly
By the fall of 2021, the Federal Ministry of Finance had already commissioned the practical implementation of such a solution for financial administration. The new system was then put into operation in March 2022. Since then, citizens have had the option of attending appointments with the tax office via video chat. By now, 25 to 30 such video conferences with citizens are held per day.
Safety first
To date, a total of just under 4,600 appointments have been handled by video chat, lasting an average of around ten minutes. Video appointments are currently being held on the topics of employee tax assessment, family allowance and questions regarding notices and supplementary requests. Further expansion is planned for the future. Security is paramount and therefore the basis of every appointment is secure identification and authentication, with the new system ID Austria playing an essential role.
Brunner praises cooperation with BRZ
"During the coronavirus pandemic, there was a huge increase in virtual meetings. Inspired by this, we developed a citizen-friendly and innovative solution that has been very well received by the population. Receiving the Public Administration Award underscores the fact that the BMF, in cooperation with the BRZ, has set up a great project here," said Finance Minister Magnus Brunner.