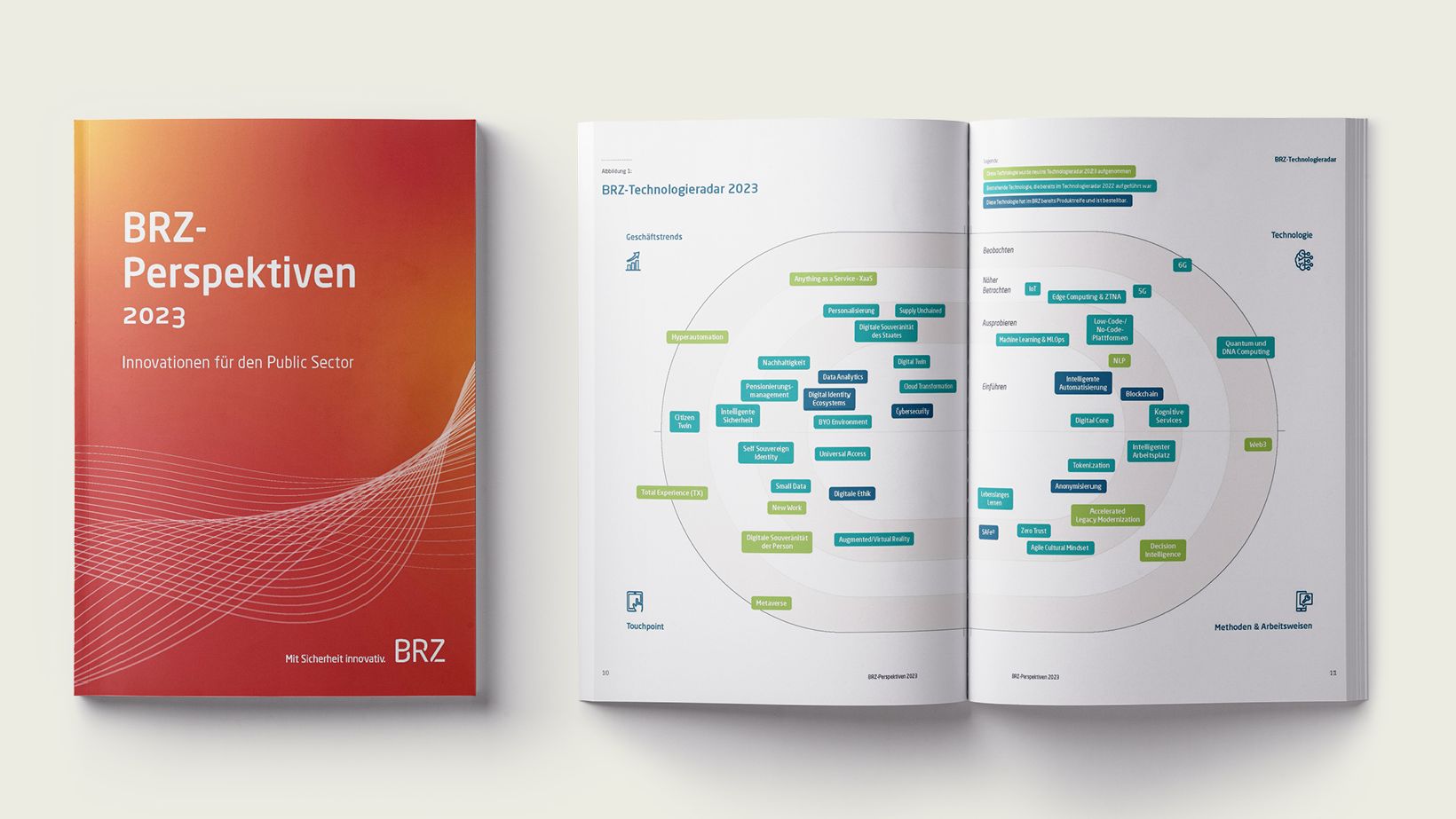 What is the future of digital management?
07. March 2023
"BRZ Perspektiven 2023" features 45 technologies with potential for the public sector, as well as in-depth insights into digital identities, cloud transformation and innovative cyber security.
As part of the publication "BRZ Perspektiven 2023", the Federal Computing Center (BRZ) presents a comprehensive technology radar that examines different technological approaches for the digital transformation of federal administration and classifies them in terms of readiness for use. The analysis comprises 45 technologies in four core areas. 10 entirely new technologies have been added to the radar, including natural language processing, digital personal sovereignty, and the metaverse. The aim of the technology radar is to plan technology changes and developments at an early stage through strategic trend management.
Digital ID cards can already be used today
In the publication, the BRZ also addresses three future topics in detail: cyber security, cloud transformation and digital identities, which are the basis for modern and secure e-government applications. The introduction of the digital driver's license based on the scalable BRZ ID card platform or ID Austria was a recent milestone in the digitization of Austria. The underlying technology of the ID card platform is expandable and will be used by the Federal Ministry of Finance for the planning and development of further digital ID cards in future.
Florian Tursky, State Secretary for Digitization: "Austria is one of the pioneers in digitization throughout Europe. We must seize the opportunities to use digital offerings not only to make life easier for citizens, but also to strengthen Austria as a business location. New services not only need to be intuitive to use, but above all secure. The BRZ is an important and competent partner when it comes to storing sensitive data of citizens or companies or developing new services, for example in the area of public cloud infrastructure.
Focus on cloud transformation
Hyperscalers have been relying on cloud solutions for years, which undoubtedly entail many benefits for users: services are available almost without interruption, can be used from different devices and offer high performance. But where is the user data actually stored and is it sufficiently secured? How can lock-in effects be prevented? These questions are essential for public administration applications when it comes to developing cloud-based services, and at the same time the advantages of cloud solutions are obvious. The IT providers of public administration are therefore already using cloud technologies in their infrastructures today – in the sense of a private cloud – but not uniformly.
Roland Ledinger, BRZ Managing Director, advocates an EU-wide framework for networking private clouds in the public sector: "The long-term goal would be to enable IT applications of public administrations to be provided as cloud services on demand via several IT providers, thus ensuring the exchange of IT solutions between public administrations, better scalability as well as stronger resilience. As the Federal Computing Center, we have developed a proposal for a network of cloud infrastructures within the framework of EURITAS, an alliance of European administrative IT service providers, which takes into account legal, organizational and technical regulations.
The publication "BRZ Perspectives 2023" outlines the concept of the EURITAS and cloud technology in general in more detail.