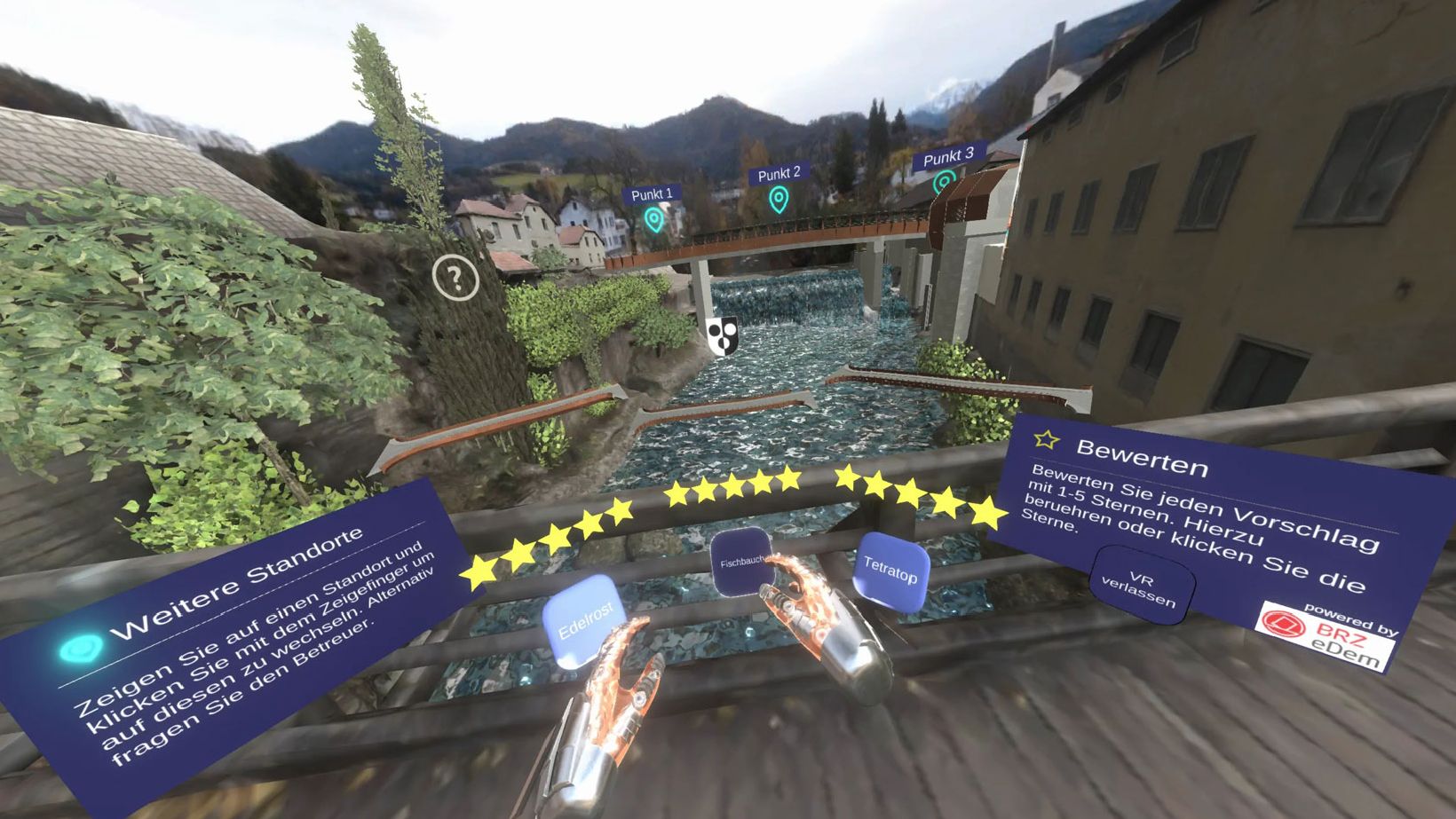 Building bridges: e-participation combined with virtual reality
29. January 2020
The city of Scheibbs and the Federal Computing Center (BRZ) used the blockchain-secured e-participation tool BRZ eDem and combined it with virtual reality technology. For their pioneering feat they won an eAward.
What should the city of Scheibbs, located in Lower Austria, look like in the near future? Mayor Franz Aigner was asking himself this question when he planned to build an additional bridge over the river Erlauf. He decided that the citizens of Scheibbs should be involved in the process of planning. They should be able to decide what kind of bridge will be built.
The perfect solution
The solution presented itself in the form of BRZ eDem, the e-participation tool designed by experts from the Federal Computing Center (BRZ) in Vienna. "We wanted to give the citizens of Scheibbs the opportunity to become involved. To make things more real we decided to use BRZ eDem combined with virtual reality technology. Therefore we were able to present different versions of the completed bridge in a realistic and simulated way. With BRZ eDem as an innovative electronic voting platform, we ensured a technically flawless and fair voting process", says Mayor Franz Aigner.
Easy and secure electronic voting
At the end of 2019 all the residents of the city of Scheibbs received a token. That token equaled to a single-use electronic voting card. By using the token, votes could be cast anonymously, without drawing any conclusions about the identity of the person voting. In addition, each token could only be used once. Multiple votes were not possible. The residents had three weeks to choose among three selected designs which they could experience with the help of virtual reality technology. Within the 3D environment, the citizen could directly select the preferred model and start an electronic voting process even during the virtual inspection.
A role model for eDemocracy
"With a project like this we were able to demonstrate in a real life environment that e-participation can be an easy and safe experience. Our tool for e-participation BRZ eDem, which is secured in a blockchain, brings e-democracy to a new level ", says Clemens Schwaiger, Head of Product Management and Digital Advisory at BRZ. "Our project in Scheibbs should motivate other cities and municipalities to digitize their administrative processes. E-participation is only the beginning. The BRZ is happy to support by bringing its know-how and services in the field of ​​eGovernment to the table. "
About BRZ eDem
BRZ eDem is an eDemocracy tool based on the blockchain technology. It was developed by the BRZ. Particular attention is paid to security, reliability and transparency. The separation of the identity of the person who votes and the digital ballot box makes the vote anonymous. At the same time it ensures that each individual person can only vote once. BRZ eDem ensures a simple and secure e-participation process for cities and communities.